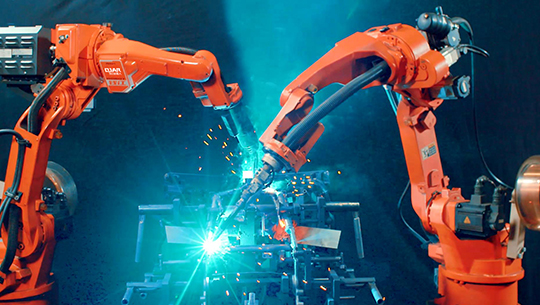 In this article we would like to introduce the robotic welding industry (furniture, gym equipment, Engineering machinery, motorcycle parts, automibile parts, amusement equipment) and some actual case (motorcycle frame welding, forklift frame welding, airport runway light aluminum welding, door frame welding, fir hydrant bracket welding).
Automation is absolutely one of the most vital factors impacting the next generation of the manufacturing world, metal robotic welding industry is no exception. While manual welding still has a place in 21-century metal product manufacturing, the use of programmable robots to automate the welding process is absolutely the future of metal fabrication. According to the ReportLinker FR, The global robotic welding market size was valued at $5,450.5 million in 2018 and is projected to reach $10,784.4 million by 2026, growing at a CAGR of 8.7% from 2019 to 2026.
So why are more and more welding work is done by an industrial robot?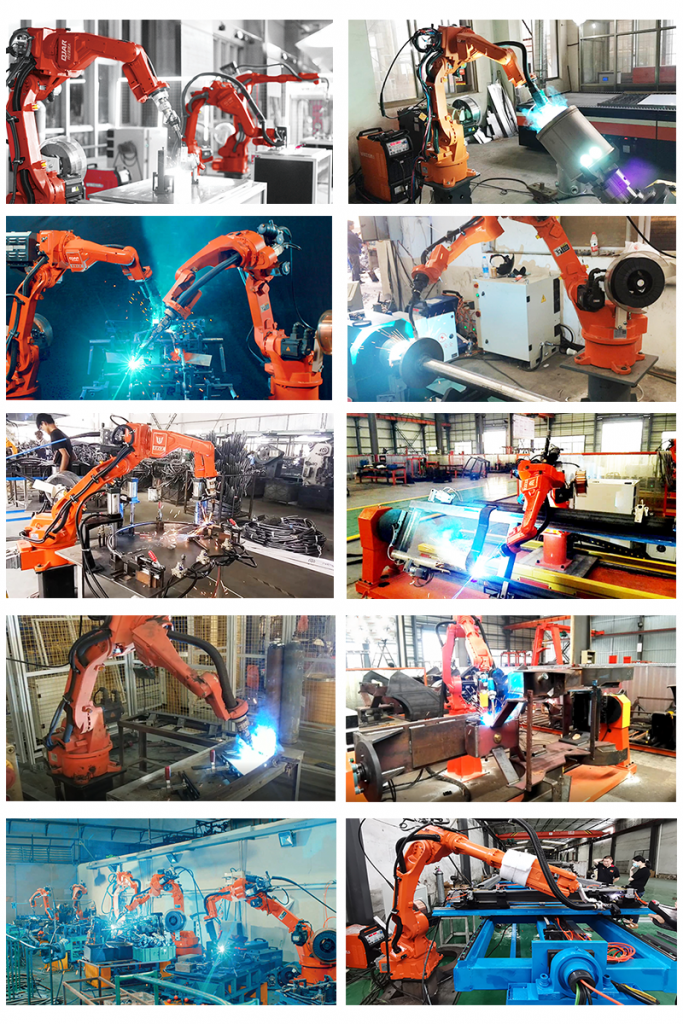 Here we could find some reasons to upgrade your welding line with 6 axis welding robot:
1. Increasing Efficiency
While human workers need breaks and time off, a welding robot can perform the welding process 24/7 for a very long time, thanks to this the welding robot can far surpass the final product output.
2. Enhancing Safety
Most welding processes will produce toxic or harmful gas, using a welding robot can keep workers away from the welding scenario to keep the workers safer. Meanwhile, a robotic welding cell will have safety fences or light curtains to enhance the safety of the workers.
3. More Accurate
When your company receives a large quantity order, the welder needs to do constant movement for a very long time, even the most qualified welder can't avoid human error. But the welding robot can finish this order with a higher degree of accuracy because the robot can keep a high level of attentiveness.
4. Lower Product Delivery Cost
Using a robot can make sure the product delivery cost lower especially in large quantity orders. Because the robot can work a longer time than a human welder, and the robot conducts low failure than a human welder.
Welding robots are used in many manufacturing processes, the automotive sector continues to lead in this area, but there is steady growth in other areas as well, such as furniture, gym equipment, Engineering machinery, motorcycle parts, automobile parts, amusement equipment, etc.
Let's take a look at some cases using welding robot:
1. Door Frame Welding
This project uses a QJR6-3 welding robot (2 meters reach distance), low spattering robotic welding power source, 3 axes horizontal positioner(video showed is a single axis positioner for commissioning). Added with automatic clamping fixtures, pneumatic finished product elevating rods, tooling length, and width adjusting screws. The complete welding cell fully automated the door frame welding, reduced production cycle, and increased productivity.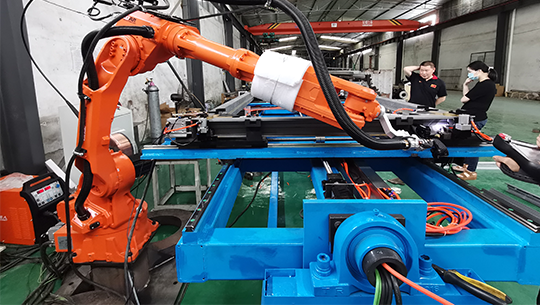 Here are some features of this project:
a. Tooling length/width adjusting makes it suitable for different frame sizes.
b. Inner side welding and low-spattering welding source, no polishing needed.
c. It can change to a laser welding source if the frame is very thin.
d. High-efficiency, the system can change to a double robot cell, max output: one minute/unit.
e. Elevating rod makes it easier for finished products
2. Forklift Frame Welding
a. QJR6-3 robots are used in this project. The robot has a load of 6kg, repetitive positioning accuracy of ± 0.05mm, an arm span of 2001mm, and large working space. It is suitable for the welding of large and large products. It can be used with Panasonic, fornix, Lincoln, Kenby, Altai, Meggie, and other mainstream welding machines, which can realize the welding of carbon steel, stainless steel, aluminum alloy, and other materials.
b. The dual-axis U-shaped positioner and gun cleaning station used in the project are controlled by the robot control cabinet. During the welding process, the robot and positioner can move coordinately without the need for the positioner to be driven by the control cabinet, which saves space;
c. The displacement function of the positioner can make the position of welding seam that the robot can't reach or is not conducive to welding. In the welding process, it can make the workpiece to be welded obtain the ideal welding position. The welding gun can weld with the best welding posture, which expands the welding range of the robot and ensures the welding quality and appearance requirements;
d. After the welding of each product, the torch cleaning station can automatically clean the welding slag of the welding gun, so as to protect the nozzle and conductive nozzle of the welding gun, prolong the service life of the welding gun, save the cost of consumables, maintain good welding quality and improve the welding efficiency.
3. Motorcycle Frame Welding
In this project, there are 21 units QJRH4-1A welding robots and 6 units QJRB20-1 handling robots. Those robots help in 3 motorcycle welding lines and Realized the automated production of 3 models of motorcycles.In this motorcycle production line, QJAR robots greatly increased productivity and saved labor costs. QJAR robots have passed the CE test and ISO 9001: 2015. To ensure the product quality, QJAR cost 10 million USD in high-standard testing machines, such as pulling machine, laser tracker, flaw detector, rolling tester, high-low temperature test machine, digital bridge, three-coordinate measuring machine, hardness, etc.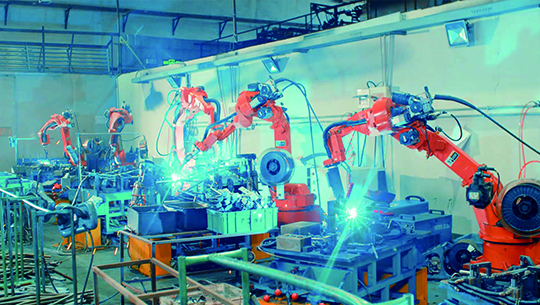 4. Trampoline Frame Welding
In this entertainment equipment factory in South China, recently they got a big order for baby trampoline. There are three main manufacturing processes for this baby trampoline, pipe bending, cutting, welding. In the past all the entertainment equipment welding was done by the human welder, the owner decided to use some high-tech welding robot to replace the human welder for this new trampoline welding. Because the frames need circular arc welding, using a welding robot can be more flexible and more efficient than the human welder, and the robotic welder is more accurate when applying the swing arc welding.Robot used: QJARH4-1A welding robot, MEGMEET welding power source.