In 2019 Chinese domestic industrial robot manufacturer's market share is about 40%, and it's maintaining its momentum in 2020. This showed evidence that China robot manufacturers have the ability to compete with the well-known big four families of industrial robots (ABB, Fanuc, Yaskawa, Kuka). The truth is that China's industrial robot suppliers can not only win domestic customers' trust, some of them are also exploring the global market and they have won a lot of customer's hearts with its biggest advantage-superior in quality and competitive in quality.
So as customers, how to choose a suitable industrial robot supplier from China? Or in other words what is the factors that you should pay attention to when you choose an industrial robot supplier from China?

Here are some tips for you when you are in such a situation:
1. It's always right to choose the big company over a small company
Either it's your own factory to use robots, or you are a robot system integrator and you design a turnkey automation solution for your end-customers, the most important factor is the stability and the reliability of the robots. And historical experience says big robot manufacturer's products are always more trustworthy than the small company.
1.1 Big robot manufacturer has a top-level factory. Top robot manufacturer has top standard strict precision manufacturing process with top tech machining and testing machines. They often passed ISO and their products are often recognized by many countries or institutions(like EU, SGS, etc). That will definitely lead to a high quality of their robot.

1.2 Big robot manufacturers have various and diverse products which can meet your various needs. You don't have to deal with multiple suppliers for different types of robots.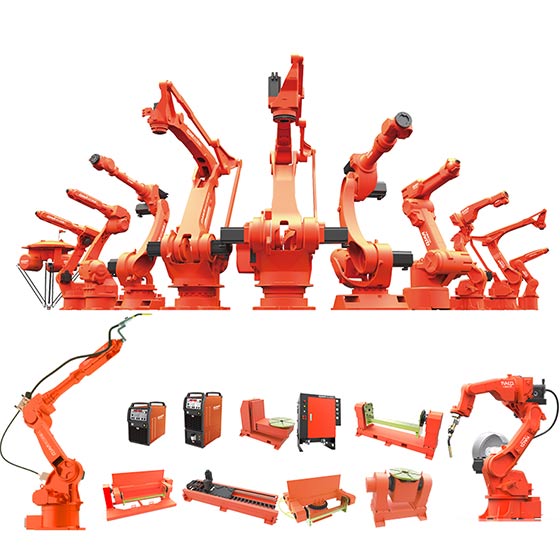 1.3 Fast lead time. Time is money especially when you are on a deadline. Big robot manufacturers always have large output and often whatever you want to purchase they have them in stock. So the lead time can be very short.
2. Choose those robot manufacturers whose robots have been tested in some big projects.
Those robots which can stand the tests in big projects are always of great quality and will not cause you miserable troubles later on. Because big projects require a high standard access threshold and always chose high-quality products.
3. Choose those who have already exported robots to foreign countries before
3.1 Exporting shows that they have won the trust of picky foreign customers, you can get references from those existing customers.
3.2 What most important is that they already have experience with global technical support, after-sale support, or even on-site support. So when you need to confirm anything they are more likely to act like a pro, which would save you a lot of time and give you so much comfortability.
3.3 They always have English version documents, instructions, operation manuals. Whether you want to buy a welding robot, handling robot like pick and place robot, loading and unloading robot, palletizing robot, stamping robot, etc, it's always preferable to have those English documents come in hand.
If you need more information on how to choose a suitable industrial robot supplier from China, please leave comments or contact us directly.
Michael Long/EVS Robotics